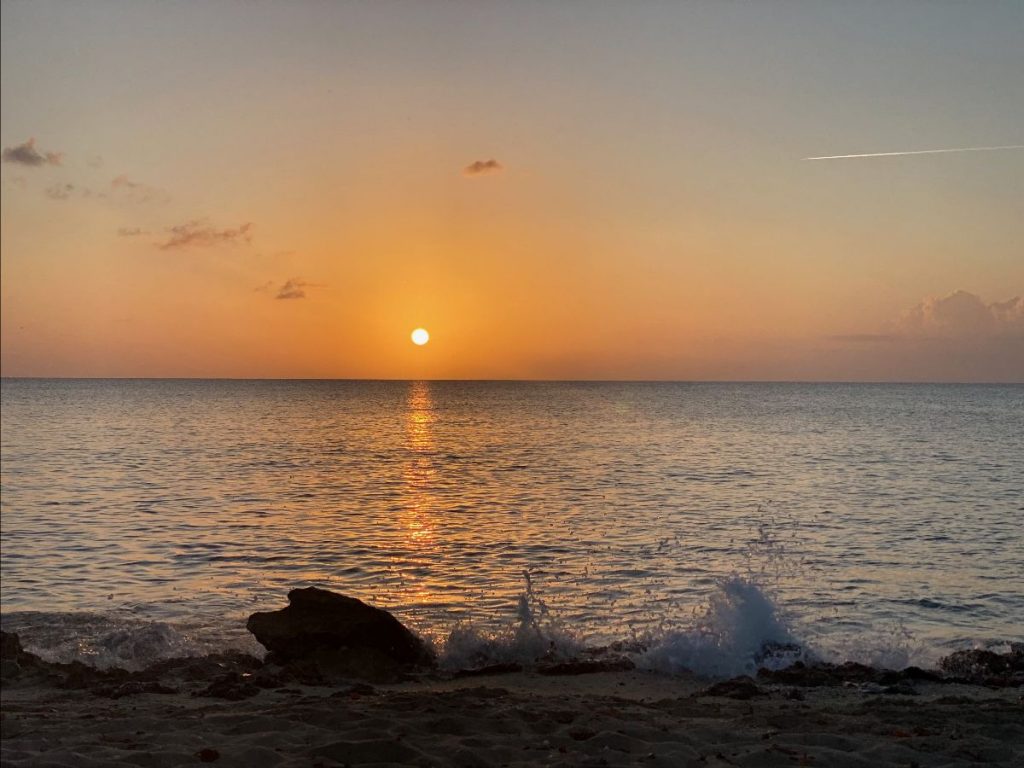 Greetings from St Croix!
We are doing well and hope you are finding serenity wherever you are.
As the mainland United States careens into the fall with a mounting covid-19 infection rate and death toll, we, too, are coping with recent spikes in cases. Many have attributed the uptick to recent arrivals of Limetree Bay workers. Of course, that has happened, but Limetree is doing a pretty decent job of testing and isolating all of its positive employees. The re-opening of the tourism economy has also contributed to the increase as has family and friends coming back home to seek refuge for a short visit or to ride out the pandemic closer to home. Regardless of the reason, the Governor has taken firm steps to mitigate the spread to include increased testing, contact tracing and quarantining. Beaches close at 4pm on weekends, bars and restaurants are restricted to distanced table seating and all large gatherings have been banned. The National Park Service recently closed Buck Island over concerns about large numbers of visitors during the pandemic. However, our Delegate to Congress, Stacey Plaskett, has challenged the legality of the closure and has reminded the Park Service that Virgin Islanders are never banned from Buck Island as written in the law.

While we grapple with normalcy, the wheels of commerce continue to turn. The sales of homes, condos and land continue at a strong pace. We have seen the higher-end inventory moving very well. Since March, 6 homes have sold in excess of $900k – the exact same number for the same time period last year. Inventory is still limited in the lower price ranges. Long-term rentals have settled to a stable range coming in line with pre-hurricane recovery norms. The state of emergency imposed by the Governor in response to the pandemic ends at the end of July which will also end the stay on evictions. As supply and demand fluctuate, we expect the rental market to reflect that relationship. Landlords have greatly improved the quality of available rentals and the second phase of the recovery is offering repair assistance to landlords. www.vistormrecovery.com
Many vacation villas are leaving the long-term rental market and returning to housing visitors. One of our favorites, Mango Hill Great House, has hosted a consistent stream of happy travelers and a wedding or two this summer. People are ready for a change of scenery and with so many other Caribbean destinations closed to visitors, the US Virgin Islands provides a beautiful escape.
We have enjoyed eating a meal out here and there. Luckily, many restaurants on-island have open air seating. Take out is available island-wide but we all look forward to breaking bread with friends and loved ones in our favorite restaurants. We are sorry to lose our favorite Italian spot, Un Amore, and beloved balter, but these are a few of the new eateries that have opened recently- The Galleon, Double D's Roadhouse Grill, Breakers Roar, Melee: Mobile Bar & Bites & Bon Manjer. Bon appetit!
We are convinced that brighter days await and we look forward to seeing all of you very soon! Thank you for your continued support and encouragement. Stay safe out there!
Read the complete newsletter here.