St. Croix is steamy hot! Check out our latest insights into the latest market activity as of August 5, 2014.
Residential Sales
The residential market is HOT! Second home buyers are back. Locals are entering the market and new islanders are buying. Despite an 8 percent jump in active listings, inventory is lower compared to 3 months ago, which is spurring multiple offers and driving prices up.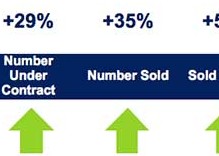 Condominium Sales
Banks are back in the condo business which has helped to stimulate this sector. Off island buyers really like condo options which is fueling a 14 percent increase in sales prices.

Land Sales
A few big acquisitions have skewed the numbers but any land sale is very encouraging.  This sector has been flat for a few years.

Commercial/Industrial Sales
Like the mainland, the commercial sector is now rebounding. Acquisitions have doubled and the forecast indicates existing inventory will be bolstered by the influx of new businesses. Blue Sky has sold half of the commercial sales on St. Croix this year!