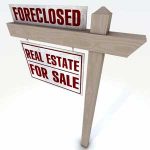 Foreclosures are hitting the market! Many need work but with some TLC, these properties can yield attractive returns on investment.  Blue Sky is working with local vendors to bring foreclosures to the market.
Buying a foreclosed home is slightly different than buying a home through a normal property sale.  The homes come as is and there is often little room for negotiation.  However, with the cost of repairs included, you can end up with a great deal and pay significantly less than going through a normal sale.
Here are some quick tips to make a foreclosure work for you.
See the house for yourself: Never buy a foreclosure without seeing the property.  Some foreclosures are in good shape and require very little work but some are often deserted and require extensive repairs.
Get an estimate of what the TLC could cost: Hire a contractor or inspector to evaluate the home and prepare an estimate of what it will cost to make the home livable. With a number of hardware stores on island, you can turn a renovation into an amazing family experience.  If you're thinking about renovating the property yourself, read The House That Freedom Built, an excellent blog that profiles a local artist's renovation of a historic 18th century property in Christiansted.
Buy repossessed homes through a real estate agent: An agent will help you understand the history and current status of a foreclosed property.  Many times a real estate deal requires a great deal of back and forth between parties and improper handling of the buyer or the seller can quickly turn a good deal bad.
At Blue Sky, we'll make sure your questions are answered and your interests served. Contact us for more information and to see the opportunities awaiting!