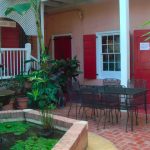 St. Croix commercial properties are HOT! We have seen a marked increase in both inquiries and acquisitions during the past few months.
St. Croix, and the rest of the nation, saw commercial interest drop sharply beginning in 2008. We are very excited to see this uptick in interest.
Blue Sky's Stephanie Hodge recently assisted a couple in the closing of their second St. Croix commercial acquisition.
"They love St. Croix and see future value in the market," Stephanie said, adding that Blue Sky anticipates another large commercial closing soon at the end of January 2014.
The interested parties include a mix local residents, business & government, off-island investors and people laying the foundation to relocate to St. Croix eventually.
Over the years, prices and rents have reduced to levels that have motivated market-watchers to action. Most buyers are looking to buy and hold. Others expect stabilization of retail rents, which translates to an opportunity to purchase property, lease the space and reap the benefits.
"We are seeing the average commercial lease rates settling at $8-$12 per square foot," said Blue Sky's Caryn Hodge. This is considerably more affordable and accessible for St. Croix businesses. Unfortunately, those owners who are holding out at $22 per square foot will continue to see vacant spaces."