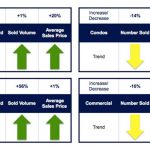 The numbers say it all! St. Croix's market has rebounded in all segments, experiencing double-digit increases in average sales prices almost across the board. The residential market, despite a decrease in the number of units sold, has witnessed a very healthy 30% increase in average sales price. Great news for sellers so buyers, if you have been weighing a purchase, we recommend acting now as we predict prices will continue to climb.
Condos stats are very similar – a decrease in the number sold but a strong 27% increase in sales price. Land, long languishing, finally has life again! Despite a lackluster 1% increase in average sales price, buyers are seizing the opportunity to buy their slice of paradise. Good deals remain in this market, creating fantastic opportunities for the savvy land investor.
Lastly, the commercial/industrial sector witnessed a staggering 49% increase in average sales price. This spike is primarily due to Blue Sky's sale of the Caribe Home Center property – $5,500,000! We know this sale has infused a great amount of confidence in the local economy. Commercial investors clearly see opportunity in St. Croix, and we are confident there is much more to come!