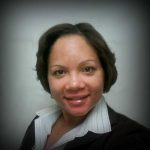 Blue Sky recently welcomed another top tier agent – Yara Rivera – to our five star team. Yara has a background in finance and began her career in the US Army. Her unique perspectives can boost your efforts to find the ideal property.
Yara Rivera pledges integrity, energy, hard work, and creative service in every detail of your real estate transaction. She was born and raised in a 'renowned business family' on St. Croix, U.S. Virgin Islands. Yara Rivera graduated from Ashford University with a Bachelor of Arts degree in Finance. Yara's career began in the US Army in 2006 through present where she specializes in Logistics and Public Affairs. Throughout her military career, she has proudly deployed in 2009 in support of Operation Enduring Freedom. Yara recently launched her career into real estate in January 2016 and looks forward to building an exceptional track record of service by maintaining high ethical standards, being honest and a hard worker that will contribute to ensure every clients success.
Whether you're buying or selling real estate in the in America's Paradise the U.S. Virgin Islands, allow the region's #1 team to provide you with the market intelligence, industry-leading marketing platform and network of qualified buyers and sellers from all over the world, and white glove experience you deserve in this important process.