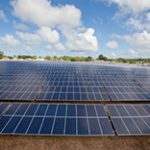 We all are familiar with the enormous cost of electricity. Well, it's more than official that WAPA is and has been working diligently to fulfill its goal of a 60% reduction in fossil fuel use by 2025. As many of you know, Toshiba completed the Spanish Town Solar Energy field in 2014. "The facility, which sits on 17 acres in Estate Spanish Town, connects directly to the new Willocks Substation and is estimated to produce over 8,500,000 kwhs. At an annual average of 4800 kwhs per household, the facility will provide power to approximately 1800 households." Two more sites for solar fields have been identified by WAPA- Estate Granard on St Croix's South Shore and Estate White's Bay on the West End.
Most recently, Hugo Hodge, WAPA's Executive Director, provided testimony regarding the proposed propane conversion projects on St. Croix and St. Thomas. In his testimony, Hodge revealed the "project that will result in an approximate 30% reduction in fuel costs, substantially lower electric utility bills for our business and residential customers, create a cleaner environment by reducing air emissions, including reducing carbon emissions by over 20%, and will employ the latest designs in storm water control and management."
These new developments along with net metering, wind energy and bio-mass conversions signal real progress in lowering energy costs in the territory. Lowering energy costs will have a welcomed effect on the economy- businesses will be more profitable and consumers will have more disposable income.  That persistent question- how much is the WAPA bill- that comes up when showing properties will be HAPPILY answered!