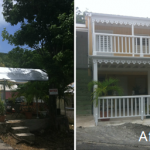 Historic Properties dot the Caribbean Landscape. Most were built to last during times of great wealth, expansion and uncertain weather conditions. These enduring reminders of island history often become hidden treasures, buried in bush alongside a winding island road.
Great rewards, tax benefits and an enormous sense of connection with history await those who decide to excavate and reinvigorate these cultural gems.
It is surprising how many projects to renovate historic property in the Caribbean begin with an owner or building professional who considers themselves not the "owner" of a piece of property but the "guardian."
Yet, time and again we hear this before, during and after renovation projects. We felt that way ourselves when we lovingly restored our office building in Historic Christiansted, St. Croix – 11 North Street (Pictured to the right).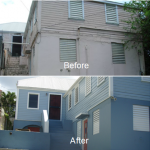 A fantastic historic opportunity is available now – MLS 13-2516. Historic property on 3.5 acres with an authentic sugar mill fabulously appointed as a 1 bedroom guest unit. 4 buildings include 3 one-bedroom cottages, main house of 3 bedrooms/2 baths, 2 bedroom/1 bath lower level apt, and large warehouse retrofitted with living/work spaces. Fully modern with all the old world charm intact- mature orchards & flowering trees on landscaped grounds overlooking the sea.
The process itself often becomes a wonderful story, combining old world charm and often superb craftsmanship and unusual materials. On St. Croix, we have a wonderful Historic Preservation Commission – which serves essentially as a free consultation service – and guides property owners and professionals through a generous palette of colors; ready samples of authentic Victorian trim work, brick work, and, even, provenance coming from the well-versed Commission members.
Intangible value and a great story are not the sole motivators for restoring historic property, however.  Very tangible rewards are available as well. Historic
in great condition often brings high selling prices. And, owners often are eligible for excellent programs to make the project and ownership financially beneficial. While wonderful historic real estate opportunities are available  are throughout the US and British Virgin Islands, we focus below on the USVI, specifically St. Croix.
Old World charm pervades the streets of historic Christiansted, St. Croix. There are more than 27 acres of well-preserved 18th century Danish-inspired architecture  stretching from the shores of the Christiansted Harbor. The entire area, especially this year, is dotted with tremendous real estate opportunities.
A number of programs apply specifically to this area. Here is a short list of some of the more valuable options available to residential and/or commercial buyers:
Federal Historic Preservation Tax Break
To qualify for this incentive, an owner needs to be certain the location is registered as an historic location. If it is not already, the owner secures a certification application from the National Park Service to be listed in the National Register of Historic Places. Once the application is approved, the government will shoulder 20% of the amount spent on renovations via tax breaks, provided certain conditions are met. One such condition is that the property must be income generating. Renting out a room or space in the property, constructing a home office, or opening a bed and breakfast or yoga studio within the space are just some ways owners can avail of this tax break.
Easements from preservation societies
Historic property owners can get in touch with preservation societies at the city and state levels and coordinate with them about securing an easement. Essentially, an easement is a contract between a historic property owner and a historical preservation society. The agreement rewards with owner with reduced income tax or real estate tax with the promise of maintaining the property's historical value. An easement is a permanent contract and is filed with the property's deed that future owners can also benefit from.
Owners who have properties that aren't listed in the National Register of Historic Places can still apply for tax incentives for renovations. A 10% rehabilitation credit can be applied for at the National Park Service. This credit can be used for renovations to preserve a property's historic character. Take note that this credit is only available for structures built before 1936.
Historical preservation grants
Owners who look further will find that there are also a myriad of historical preservation grants available from philanthropic organizations. The National Trust for Historic Preservation is a good place to start searching. Add the Enterprise Zone through the EDA and the local Historic Preservation Office at the Department of Natural Resources. Both have great tax credit programs.
Federal Housing Administration loans
Buyers who are eyeing a historic fix-upper have some great options for funding. The Federal Housing Administration has a program to grant loans at friendly terms for historic property restoration mortgages.
Interested in buying historic property in St. Croix? Blue Sky Real Estate represents large and small Caribbean real estate properties located all over St. Croix, St. Thomas, and St. John, US Virgin Islands. Whether you are interested in a luxury home, undeveloped land, condo, fix-upper, commercial property, a hilltop perch or a beachfront oasis, Blue Sky Real Estate can help.