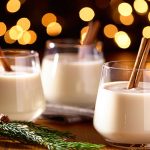 Eggnog is a staple during the holiday season. Down here, Coquito is our flavor of the season! Also known as Puerto Rican eggnog, Coquito is a thick decadent drink that can be kicked up a notch with the addition of rum. We love Coquito so much that we even have a festival in its honor. If you love coconut and eggnog, then Coquito is a must have! Try out this Coquito recipe and let us know how you like it!
Ingredients
• 1 12oz can evaporated milk
• 1 14oz can sweetened condensed milk
• 1 15oz can sweetened cream of coconut (such as Coco Lopez or Goya)
• 1 14oz can coconut milk
• 3 cups white rum (use less if desired)
• 2 teaspoons vanilla extract
• 1 teaspoon ground cinnamon
• 2 cinnamon sticks
• 1 vanilla bean, split in half lengthwise
Directions
Combine evaporated milk, condensed milk, coconut cream, and coconut milk in a large blender and blend until well combined. Add the rum, vanilla, and ground cinnamon, and blend in. (If your blender is small, do this in batches and pour into a large bowl as you go.)
Pour into a pitcher or glass bottles with sealed lids and drop in the cinnamon sticks and vanilla bean halves. Cover and chill in refrigerator for at least 2 hours or until very cold.
Serve straight in small glasses garnished or on the rocks in larger ones. Garnish with a sprinkle of cinnamon and a cinnamon stick. Leftovers will keep tightly sealed in the refrigerator for about one week (shake the jar vigorously each time before serving).